The fluidity of COVID-19 impacts and the unknown future of economic recovery (or decline) can lead to a paralysis of planning as companies grapple with alternative scenarios. Getting ahead of the economic future state creates competitive advantage for those who understand what initiatives are mission critical, regardless of events, and enable the rapid deployment of investment strategies.
The ABCs of the Post-COVID Economic Recovery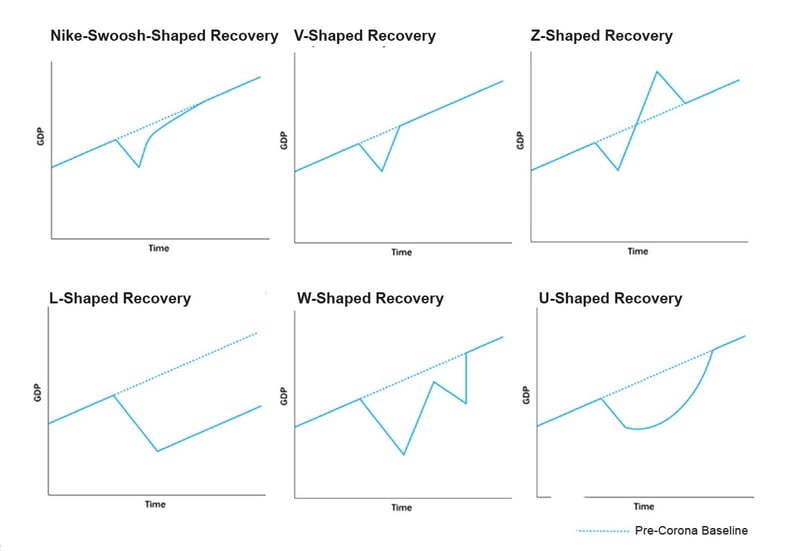 1. Develop scenarios of economic recovery (or recession).
As you begin to consider where, when, and how to adapt to the new realities of work, weigh your ability to collect and interpret both quantitative and qualitative data that is relevant to the pandemic, your business, and your employees. A pandemic can render past data and experience uninformative or unavailable due to the distinctive nature of the crisis, thus necessitating a systematic approach to evaluating potential threats and opportunities.
With internal and external SMEs with cross-functional backgrounds, develop efficient processes to collect data in order to understand the true health and current state of your business. To effectively collect and interpret this information and understand its impact on the current reality of your business, ask questions such as: What is happening? What if? What works? This will generate innovative insights on where potential investments may offer solutions or opportunities unique to the problems facing the business under different economic conditions. This sort of technique is known as Design Thinking and can be useful in bringing together different points of view to explore all angles of a problem and identify unseen opportunities. The team should collectively identify patterns and themes in their data to define an even number of potential economic future states and model their implied effects on your business. Leveraging an even number of scenarios protects against the bias of selecting the "middle" outcome.
Use proforma measures such as liquidity and cash projections, as well as qualitative information related to expected impacts on suppliers, customer demand, competitor actions, and your employees' needs to understand where and when there may be challenges or opportunities for your business depending on the recovery, or contraction, of the economy. Trigger points for each of the scenarios modeled also need to be defined so that as data becomes available, your management team can understand the expected impact on your organization.
2. Evaluate the feasibility of an organization's strategic initiatives under each potential scenario.
Once the current standing of the business is understood, determine what strategic investments and enhancements may be available. These could be existing or ongoing strategic investments, already developed backlogs of desired enhancements and changes, or new ideas developed in response to current challenges.
Facilitate strategic planning sessions to rate the level of implementation effort (LOE) and complexity, the expected return on investment (ROI) of the initiative, and the potential variability of the expected ROI that the initiatives may have under each potential economic scenario. Score the initiatives based on the combination of LOE/ complexity and variability of impact (dependent on economic future state) and plot as seen in Figure 1. Examples of potential initiatives include automating Accounts Payable, shift to 100 percent work from home or unlimited PTO, creating a Shared Services Center, implementing a facilities management software, and divesting a business unit.
The below graphic shows illustrative plotting of initiatives by LOE/ Complexity and Variability of ROI. The size of the bubbles indicates the expected ROI.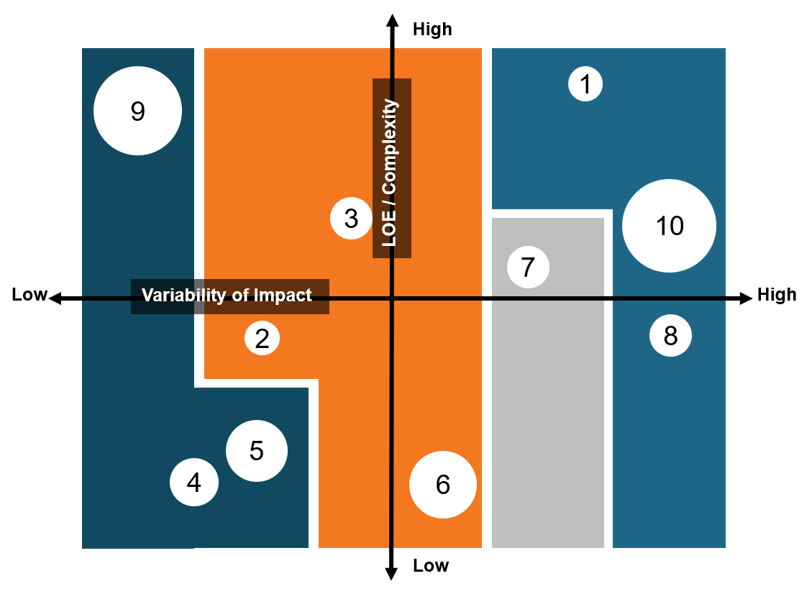 3. Prioritize initiatives.
Analyze the results of the scoring. Investments that are valuable in any economic scenario should be strategic priorities for immediate investment, while ROI that is highly dependent on the future economic scenario should be funded only when/ if the required economic state is reached. Put another way, organizations should invest in initiatives that have a low variability of ROI with prioritization for those that have a large expected ROI with a low LOE/ complexity for implementation. Initiatives that have low ROI and a high LOE/ complexity should be deemphasized.
Illustrative Prioritization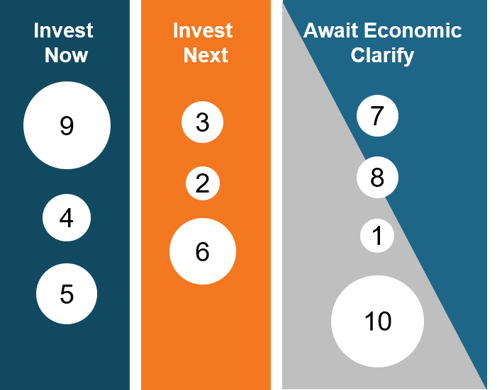 4. Create a roadmap for action.
Once you decide on prioritization, you can prepare a roadmap to detail how, when, and in what order initiatives should be funded. For those initiatives in the "Invest Now" and "Invest Next" priorities (as illustrated above), develop more detailed action plans. Those dependent on the economic scenario can wait until additional information indicates that they will likely be implemented.
In connection to the roadmap, it is essential to develop procedures to actively monitor and collect macroeconomic data in addition to government policies and guidance, possibly leveraging predictive analytics and automations, to provide real-time indications on the shape of the emerging economic scenario. As the economic reality becomes clear, the roadmap can be used to provide direction to teams about where to invest and respond.
Knowing when, where, and how to deploy limited capital and capacity is challenging in a rapidly and unprecedented shock to the economy. As the economy begins to align with a modeled scenario, successful companies will already have an established roadmap to capitalize on potential opportunities, enabling streamlined communication about priorities and ensuring investments and strategies are implemented quickly.
Conclusion
A pandemic creates new threats to an organization but also substantial opportunity. Untraditional work environments have the potential to introduce new risks to a business.
From malignant cyber actors capitalizing on global panic to missed operational and financial controls due to the reliance on employees forced to work from home, leaders are required to assess the resilience of their business and evolve under taxing conditions. Executives that can quickly understand the new environment and evaluate the impacts facing their organization will ultimately ensure that they are able to effectively manage risks and evolve operations in order to capitalize on opportunities that will create a more resilient and better-positioned business for the future.
Interested in learning more about managing post-pandemic risks and requirements?
Download our guidebook for a roadmap for leaders to decisively deploy actions that correspond to the shape of the future state economy, all while mitigating new and emerging cyber and operational risks.