Limited bandwidth, traditional communication silos and barriers, and rapidly evolving information are all problems in a healthy economy. In a world stricken by a pandemic, coordinating responses across functions effectively and efficiently can be a differentiator for companies that are successfully navigating unchartered waters.
After months of coping through a crisis, many teams will begin feeling fatigued and ill equipped to continue to support the ongoing crisis management response. Taking the opportunity to consider the structure of the organization's response team and coordinate around agile decision-making principles can build the resilience necessary to manage through the next phase of the pandemic and recovery. This can also enable your organization to make quick decisions to effectively respond to evolving requirements and events.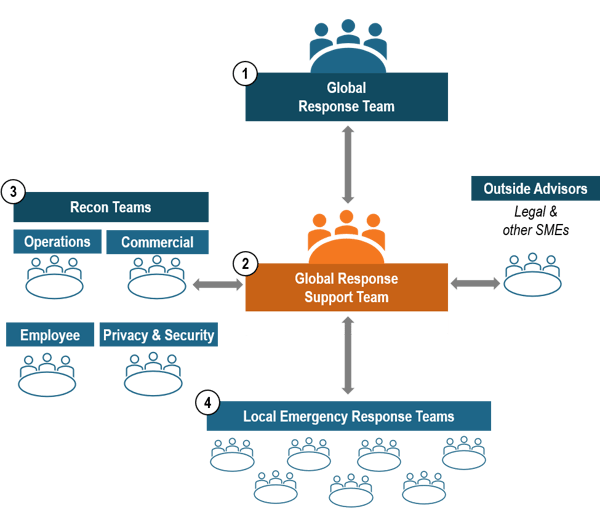 How do we best organize our response?
Differing guidance and requirements across countries, states, cities, and counties, coupled with a remote workforce, necessitate a decentralized and sharp response team that can effectively communicate, share ideas, and make rapid decisions that can be applied globally or with an acute focus on local realities. A hub and spoke structure as described here can facilitate interactive management.
1. Global Response Steering Committee
Client leadership who are responsible for determining priorities, resolving critical issues, making key decisions, and setting the course of the global pandemic response in line with corporate objectives.
2. Global Response Team
A program management team that is responsible for establishing an agile daily management structure and serving as the centralized point of contact to coordinate the distribution of information; track and aid the resolution of risks and issues; and monitor, consolidate, and disseminate relevant information from governments, outside advisors, business/ product teams, and other employees. This team coordinates and consolidates information and requests from outside advisors (as appropriate) and internal teams (as required) and should be made up of one member of each reconnaissance team, as described below.
3. Reconnaissance (Recon) Teams
Each recon team is made up of associates on the ground in a specific specialty and supplemented by subject matter experts (SMEs) who are working to understand potential future scenarios and create recommendations for possible guidance or needs should certain scenarios become reality. They also focus on new requests or questions coming in from the field and act as a filter to request support from the Global Response Team when needed.
Examples of Recon Teams include:
Customer Support, Sales, Procurement: Consider potential commercial impacts on customers/ vendors, as well as monitor sales teams in the field (e.g., how to respond to customer requests for COVID-19 health screening, travel).
Human Resources: Consider potential impacts on employees (required training, payroll/ benefits, PTO and special leave policies, engagement, recruiting, communication, ergonomics while remote.)
Privacy, Security, Compliance, Risk: Consider data protection mechanisms required to manage potential risks associated with new data collection (e.g., temperature scanning, contact tracing), new security threat actors, and remote work technologies.
Accounting, Internal Audit, Risk, Compliance: Consider the impacts on operational effectiveness on risks and controls, and how changing work patterns may necessitate new or modified processes and controls.
4. Local Emergency Response Teams
Region/ country/ state site teams that are organized across functions (e.g., HR, IT, commercial, legal, operations, facilities) to collect and analyze information specific to their location in order to determine the best course of action under the guidelines provided by the Global Response Team. Local teams are best positioned to have access to information and data specific to their location, employee needs, and site-specific requirements. Risks, issues, questions, and concerns should flow first to the Global Response PMO for support.
Interested in learning more about managing post-pandemic risks and requirements?
Download our guidebook for a roadmap for leaders to decisively deploy actions that correspond to the shape of the future state economy, all while mitigating new and emerging cyber and operational risks.