Over two months since it was first announced, the Main Street Lending Program (MSLP) has finally launched. Once registered, lenders will be able to start issuing loans under the program.

The latest update contained changes aimed at increasing the participation of both lenders and borrowers (details found below). The question now remains, how popular will this program turn out to be, and will it actually appeal to the Main Street businesses it was designed for?
For borrowers, some of the favorable elements of this program include:
Allowing businesses access to funds at below market rates to keep employees on the payroll and cover other operational expenditures until they have recovered from the impacts of the pandemic.
No payments the first year and no principal payments for the first two years, meaning almost zero initial cost of the loan.
roader participation opportunity through the revised minimum loan amount of $250,000, which opens the program up to a wider range of small businesses.
From a lender point of view, elements of the program are also very enticing, including:
Low operational risk. In the event of borrower default, material misstatements, or covenant breaches, lenders have the support and reassurance of the Federal Reserve.
Low credit risk. Lenders will sell 95 percent of the loans to the Federal Reserve SPV and only need to maintain a 5 percent stake.
Potential to expand their client base to a new set of borrowers without significant marketing expenditures.
Refinancing Opportunity
Beyond the more obvious advantages listed above, it is one of the more interesting nuances of the program that could be most compelling for borrowers and lenders alike. The Main Street Priority Loan Facility (MSPLF), one of the three facilities that comprise the Main Street Program, allows borrowers to refinance existing debt using proceeds of the loan, as long as the bank providing the refinancing is not the existing lender.
The MSPLF also provides borrowers with a low-cost refinance option that frees up working capital, especially in the two-year deferred principal period and, in some cases, will extend maturity dates of a borrower's debt by up to five years.
Additionally, because the loans cannot be refinanced through their existing lender, the MSPLF offers an opportunity for banks to solicit borrowers who are currently clients of rival firms. Once this new relationship is established, it has the potential to continue for other products and services beyond the Main Street program. This will be made even easier if some do not register as Main Street lenders, as this will allow competitors to easily identify where they should be targeting their outreach.
Drawbacks of the Program
Despite these advantages, borrowers must be aware that the terms of the loans do include restrictions on executive pay, company dividends, and stock buybacks. A borrower cannot repurchase equity securities of itself (or its parent) or pay on common stock while the loan is outstanding. Borrowers will also need to keep in mind that there are limitations for compensation of employees receiving an amount exceeding $425,000, as well as additional limitations for compensations exceeding $3 million per calendar year.
Borrowers will also be required to provide lenders more frequent and robust reporting than expected under a typical credit facility. They should carefully review these requirements to ensure systems and processes are in place in order to comply with the reporting obligations.
Similarly, banks still need to undertake a full underwriting and credit review for all Main Street loans because they will be holding 5 percent of the loan and also for the reputational risk of potentially doling out millions in government-backed loans that end up not performing if the customer due diligence is not properly carried out. Therefore, it is vital lenders process these loans using existing in-house underwriting standards and onboarding procedures.
Summary
Ultimately, despite the restrictions, the opportunity for an additional source of liquidity at a favorable rate or a potentially cheap refinancing opportunity will likely lead to interest in this program from borrowers. However, they need to fully understand the conditions attached before committing to the program.
For the lenders, it will come down to the demand for this program among existing or prospective clients to determine if they sign on. However, it would also be wise for them to keep an eye on their competitors because they would not want to be the only bank not participating in this program and subsequently see long-time clients moving to other lenders.
Stay tuned. The next 3-4 weeks will reveal how popular the Main Street Lending Program will be and whether the Fed will implement any further program changes to boost its prospects for success.
Summary of Terms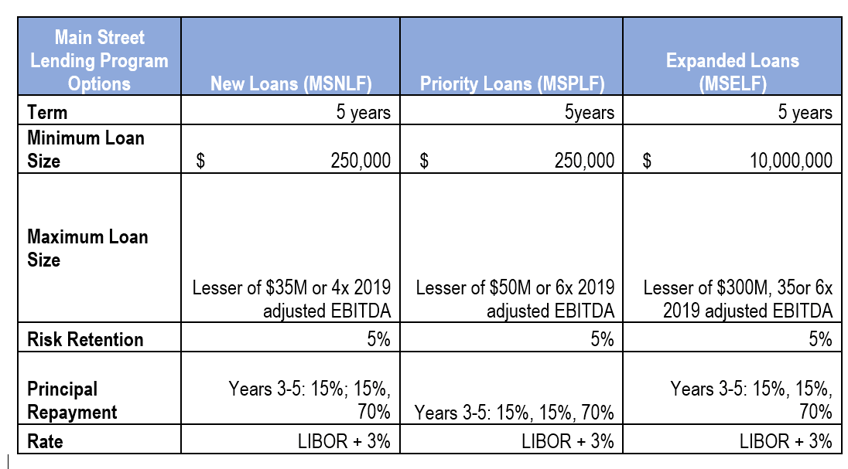 Our latest guidebook provides leaders with a roadmap to enhance resiliency plans, simplify operations, address new financial requirements, and more. To download, please click the link below.