As businesses react to changing markets and social expectations and shift to more decentralized working locations, employees are being asked to complete more tactical roles and take on additional responsibilities. While balancing professional and personal commitments amidst a global pandemic, many individuals find themselves stretched to their limits, impacting their ability to meet organizational needs. In order to alleviate the growing mountain of tasks and influx on their employees' time, companies are now considering new technologies such as robotic process automation (RPA). However, there is one aspect of automation that is commonly overlooked when it comes to the introduction of bots – cybersecurity.
As we have seen with other disruptive innovations, if the cybersecurity aspect of RPA isn't considered in the early stages of design, it can unknowingly create new threat and attack vectors for hackers and cybercriminals. Nonetheless, a common misconception is that robotics and cybersecurity cannot complement one another, that there is too much friction between the automation of processes and securing organizational assets. On the contrary, leading automation platforms such as UiPath come with essential cybersecurity functionality, including credential vaults, centralized logging, and access monitoring. Integrating with IT and cybersecurity processes and platforms that already exist within your organization can even take you one step further in securing these implementations.
Here, we describe critical cybersecurity risks in unsecured RPA and bot processes, and how the cybersecurity capabilities described above, in combination with proper cyber hygiene best practices, can help manage these risks.
Elevated Access Privileges to Sensitive Data Sources

Logging & Monitoring of Bot Activities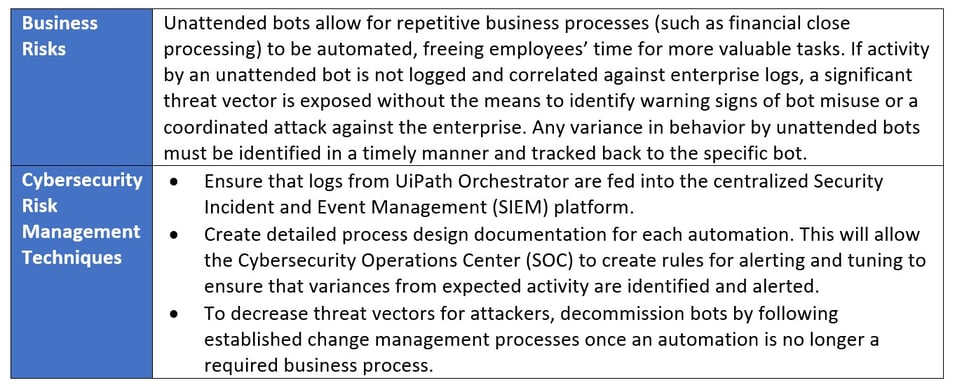 Proliferation of Access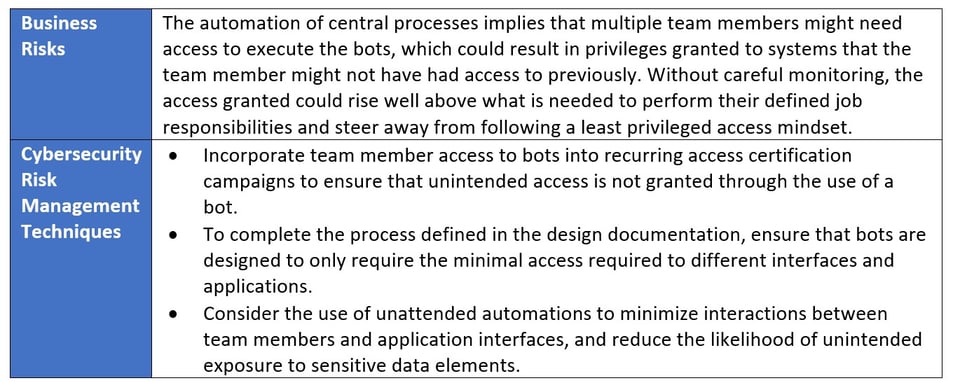 To ensure that you maintain a balanced approach that enables both automation and cybersecurity, it is critical to collaborate with your cybersecurity team during design, development, review, and deployment of your RPA program.
Interested in learning more about how to grow and scale your organization's RPA program?
Download our guidebook about establishing a Robotic Operating Center of Excellence for an insight on why a COE matters, the steps and key considerations necessary to establishing a world-class program, and how to maximize your business value.