After receiving over 2000 letters related to the Main Street Lending Program, the Federal Reserve and Department of Treasury announced significant improvements to the program.
These revisions allow for a larger set of borrowers to take part by lowering the minimum loan and increasing size limits of eligible companies. They also expand eligible lenders to include US branches of foreign banks, provide a third type of loan facility for borrowers with greater leverage, and removes the overly ambitious requirement to base the interest rates off of SOFR, reverting to LIBOR instead.
These changes should make this program more impactful for borrowers, as well as reducing an element of the significant operational challenges that banks will face in its implementation.
Significant changes include:
Reduced minimum loan amount from $1 million to $500,000
Increased thresholds for borrower eligibility - max of 15,000 employees or up to $5 billion in revenue, from 10,000 employees and $2.5 billion initially
Added the new Main Street Priority Loan Facility (MSPLF) to the previously announced Main Street New Loan Facility (MSNLF) and Main Street Expanded Loan Facility (MSELF). This new facility is aimed at companies with greater leverage with the following conditions attached:

It allows companies borrow up to $25 million if their total debt does not exceed six-times EBITDA; and
Banks would be required to retain 15 percent of these loans, compared to the 5 percent they keep for MSNLF and MSELF.

Changed the underlying interest rate on all facilities to LIBOR plus 300bps from SOFR plus 250-400bps
Expanded eligible lenders to include the US branches, agencies and holding companies of foreign banking organizations

Non-bank lenders remain excluded from participating in the program

End date of September 2020 put on the program
Although there is no firm date set for the program to begin, we expect it will likely be open for disbursements by mid-May. This gives institutions a few weeks to start looking into how they will be able to manage the process with a focus on answering the following questions:
1. For clients with existing credit facilities, do lenders have an idea of how many will take advantage of the Main Street Expanded Loan Facility (MSELF)?
An outreach campaign by relationship managers to assess the potential number of interested clients would help lenders understand the potential volume of MSELF to expect.
2. Based on the challenging user experiences of the SBA PPP, are lenders assessing the use of or developing automated workflows to handle the surge in loan applications?
Lenders would want to make sure some of these SBA challenges are not repeated and are addressed before this new program goes live.
3. Are current lender workflows and automation programs able to be leveraged with tweaks in order to administer this specific loan disbursement?
The identification and implementation of quick changes to current systems will drastically improve the lender's ability to manage this process.
4. For the MSELF loans, how are lenders going to account for the drastic differences in terms between existing and new portions of the loan? For example, how will interest and principal payments, as well as maturity dates of existing facilities, be managed?
Lenders should proactively address these issues and develop procedures to be followed, as well as an escalation framework for any disputes that may arise throughout this process.
5. What internal credit approval process should be followed for each loan? Are any changes to credit policies required?
Each bank will have a credit approval process that differs based on several credit factors, including the loan amount, which could result in drastically different requirements and timeframes to approve each loan. Therefore, developing a consensus approach upfront and having the credit committee approval in advance of the start of the applications will reduce the administrative burden and delay during the process.
6. How do banks get comfortable with the lender's calculation of earnings before interest, taxes, depreciation, and amortization (EBITDA)?
With so may potential adjustments that could be made to EBITDA, lenders should look to create a simple tool that will easily calculate and validate that the appropriate number is used.
7. How should a lender account for the various loan fees associated with the Main Street Lending Program?
With each loan containing facility, origination and servicing fees involving the borrower, lender and Federal Reserve, there are several complex calculations needed to ensure that each loan and associated fee is accounted for correctly. Creating a clear methodology for each of the three Main Street Lending Program facilities to follow will be critical to ensuring consistent and correct accounting treatment.
8. How should banks apply CECL to these loans?
For the MSNLF and MSPLF, it is straightforward to create a reserve based on the 5 or 15 percent of the loan that the lender retains, but for the MSELF, it becomes more complicated. It may require treating the expanded part of this facility as a separate loan for CECL purposes and have two separate reserves for the same facility in order to ensure consistent treatment is applied across the lender's portfolio.
We will be following the developments closely as the program is finalized and a start date is announced, and we will provide further insights into these challenges and more as the program is rolled out.
Overview of the Main Street Lending Program:
The Federal Reserve will purchase up to $600 billion of loans made to qualifying businesses through two separate facilities. The MSNLF will provide new loans to eligible borrowers, while the MSELF will allow companies to increase existing loans.
One key difference between this program and the SBA's PPP is that loans under the Main Street Lending Program are not eligible for full or partial forgiveness.
Borrowers must employ less than 15,000 people or have annual revenues of less than $25 billion to meet the eligibility requirements.
Lenders will be required to keep 5 percent of the MSNLF and MSELF and 15 percent of the MSPLF loan on their balance sheet to have a stake in the result with the Fed, eventually purchasing 95 or 85 percent of the loan balance.
This loan is open to borrowers who would have used other programs, including the SBA PPP. However, they are only allowed to avail of one of the above facilities. They are also not eligible if they participate in the Fed Primary Market Corporate Credit Facility.
Summary of Terms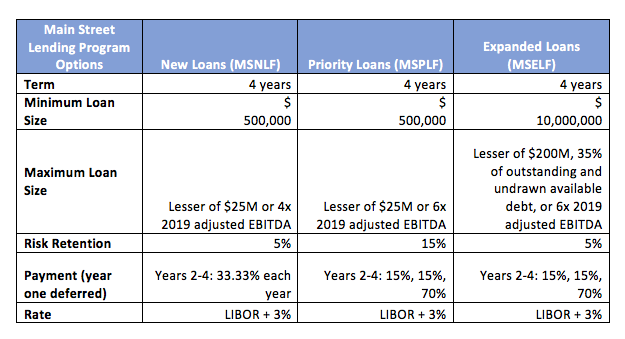 Conditions Attached
Businesses must commit to make reasonable efforts to maintain payroll and retain workers.
Borrowers must also follow compensation, stock repurchase, and dividend restrictions that apply to direct loan programs under the CARES Act.
Businesses most refrain from using proceeds of the loan to repay other loan balances or debt except for mandatory principal payments. They must also not cancel or reduce existing lines of credit
Our latest guidebook provides leaders with a roadmap to enhance resiliency plans, simplify operations, address new financial requirements, and more. To download, please click the link below.