Divestment strategies are integral as companies seek a tactical shift in their business, a change in their margin profile, or a deleveraging of their balance sheet after a time of crisis. Whether this means the sale of a subsidiary or the spin-off of a business unit, a well-executed divestiture can streamline an organization's corporate strategy and unlock shareholder value.
To achieve these benefits, management needs to begin by assessing how ready the organization is to execute the complex steps of a transaction. Failing to do so will cause disruption, delay, and additional cost. It can also heighten employee, board, and customer frustration in an already uncertain time. To succeed in realizing a transaction's objectives, understanding and properly planning for the intricacies of a sale or spin-off is critical. CFOs need to consider a number of complexities and their organization's readiness to tackle them.
For example, consider the following questions: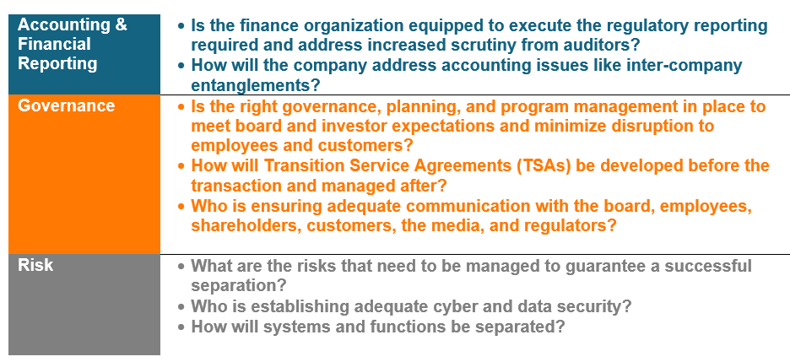 A well-executed divestiture can provide a great opportunity for a business to grow strategically, reduce liability, and access capital. An effective and honest assessment of the company's readiness to execute a complex transaction, using questions such as those above, will help to position it to succeed and reap the benefits of a divestiture.