Over the past few years, the Internal Audit profession has been learning the "agile" approach to value creation. Software developers use the agile methodology to develop and test cutting-edge software that meets users' needs, and Internal Auditors use it to assess risk, develop value-add recommendations that are tailored to the organization's environment, and gain the critical buy-in from stakeholders that is needed to drive positive change.
The benefits of agile include:
Improving collaboration leading to better engagement;
Increasing efficiency through higher-quality outputs and clearer outcomes;
Enhancing value through risk-specific insights;
Accelerating response times to changing risks or business needs; and
Empowering audit roles through a flexible audit approach.
Intrigued by its benefits, Internal Auditors are often challenged by how to apply agile without making the audit process longer and less efficient. To help with this, the below graphics illustrate an approach to applying agile principles to an existing internal audit methodology, as well as finding the right fit for your agile audit and defining key team roles.
This chart depicts the full agile audit process. It captures the familiar phases of a traditional audit project and translates each into the six main parts of the agile audit approach: user stories, product backlog, spring planning meeting, sprint backlog, sprint, and final product. The larger loop portrays the "sprint" or "iteration," after which the audit team's results are reviewed to ensure timely feedback. A Sprint Retrospective considers what went well and what could be improved to continuously enhance future iterations; ultimately, there is value in checking in, vetting thoughts, and getting the auditees on board to prevent going down the wrong path and wasting any time.

You must also find the right approach and team for the audit. For an audit with very clearly defined steps that is done repeatedly, the traditional approach might be the best fit. Agile is well suited when there are high degrees of ambiguity, complexity, and change. Additionally, a high-performing agile audit team consists of a Product Owner, the Audit Team, and a Scrum Master designed to optimize flexibility, creativity and productivity.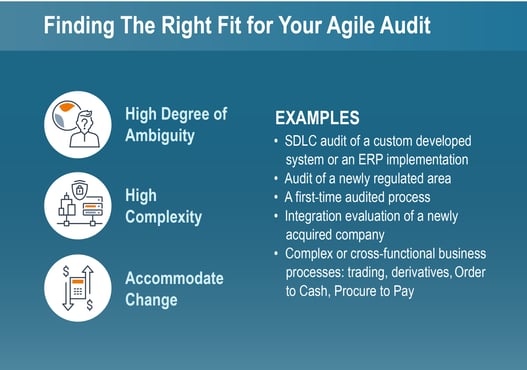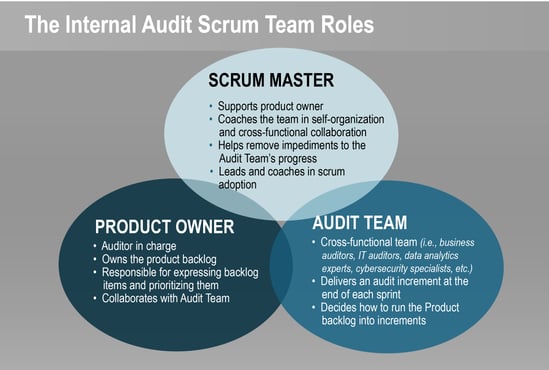 After your agile audit, measure the team's success using the following criteria as a guide: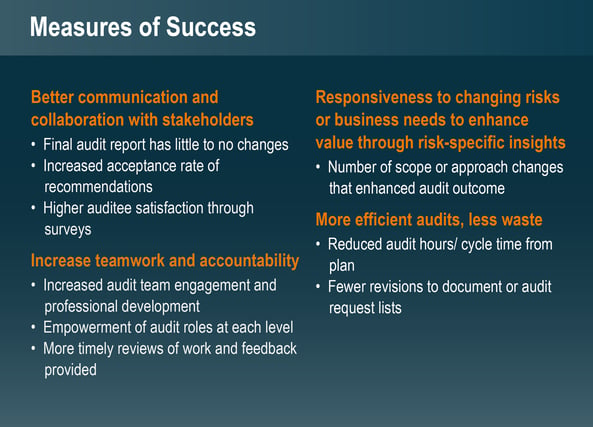 Closing
The goal of agile is to make an audit more efficient and effective and drive positive change through iterations that focus on soliciting timely stakeholder input and ultimate buy-in. Don't delay any further; bringing agile into your audit approach could be the change your team needs to inspire new ways of thinking, engage with the business, and influence transformation throughout the organization.