RPA is quickly becoming one of the fastest growing technology sectors. According to a new study from Gartner, "Finance departments can save their teams from 25,000 hours of avoidable rework caused by human errors by deploying robotic process automation (RPA) in their financial reporting processes."
It's clear there is huge potential for RPA, and we've only just begun to scratch the surface of market penetration, as well as optimizing the capture of business value for organizations that have started implementing it within their operations. Current estimates are that RPA will cross over from an emerging to a mainstream technology in 2020 once market penetration surpasses 15 percent.
All of this is to make the case that RPA is just getting started on transforming companies into digital organizations, and yet the potential benefits immediately available today are immense and predicted to continue on a higher growth path. By some estimates, the global RPA market is estimated to develop at a Compounded Annual Growth Rate (CAGR) of 20 percent from 2019 to 2025. This is even without knowing how successful RPA vendors will be at expanding the capabilities of their platforms to cope with unstructured data. The growth potential will be even greater if they are successful in infusing cognitive capabilities that will enable ever more complex processes, business rules, and dynamic decisions without the involvement of humans. The leading vendors - UiPath, Automation Anywhere, and Blue Prism - recognize the need to make headway in these areas in order to ensure RPA continues to live up to the hype, which is evident when you look at the partnerships they are developing and their product roadmaps.
Help Maximize Business Value
Take Steps to Develop a Healthy Pipeline
1. Build trust with process owners and operational teams by being transparent on the expectations and reach mutually agreed-upon goals and metrics they can support. If they agree up front to a process by which efficiency savings could be translated to budget savings, they will be more enthusiastic about pursuing automation.


2. Work directly with operational teams to identify an inventory of processes and quantify the opportunities beyond the siloed annoyance-type improvements. With thoughtful use case selection focused on processes that cut across different teams, you will gain great benefits and efficiencies.


3. Consider providing process analysts to work with process owners to root out high-value business processes, and then ask, "Where do you get the data? Who is the user of your work product?" You can use this information to examine whether a more end-to-end automation is possible. Some added benefits of automating more of the process, especially the areas that cross department boundaries and have several handoffs, is that handoffs slow things down and create opportunities to introduce errors.


4. Choose use cases with care: Automating the right things is how you will ensure the longevity of your program. Develop a basic set of process fit templates to provide an objective method of use case evaluation to help ensure you have some consistency across the organization and guidance on which processes are likely to provide the greatest benefits. Customizing the templates to favor use cases that align to your program goals is a good way of funneling the best ones to the top of the list. However, do not forget about the other departments that may not have the highest-value use cases. Make an effort to spread the benefits of RPA broadly across the company by taking on use cases for departments who have not been as engaged in the program, but would ultimately add value. The more broadly you engage with the organization, the healthier, more creative, and impactful your use case pipeline will be.

Strategies that Maximize Business Value
1. Establish goals that are consistent with the expectations of leadership and process owners. While leaders have the power to say yes to an automation program, process owners have the power to say no to specific processes. Many clients struggle with capturing benefits because they failed to gain alignment on goals and expectations throughout the organization.


2. Consider how you will measure your bots and what you want to measure. Get agreement from your program sponsor and stakeholders on what will be measured, ensure those metrics are aligned with your program goals, and create incentives for those goals to be met. By understanding the expectations of all stakeholders from the sponsor to the workers, you can set goals that align expectations and reality for RPA in your organization.


3. Take advantage of RPA to reinforce your Business Continuity Plan. By augmenting human capacity with a robotic workforce, RPA is a very good technology to improve crisis preparedness.


Some ways RPA provides for business continuity include:
Leverage existing RPA capacity from normal operations to quickly scale in times of uneven demand.
Codify business and process knowledge, benefiting all members of the team.
Supports 100% remote work, allowing your employees to easily collaborate with coworkers from home.
Schedule high-volume, network-intensive processes for execution during off-peak hours.
4. Educate employees at all levels about RPA and the types of benefits that are realistic. The education process needs to be sustained and ongoing, and can be infused with the evangelism that should be occurring if an organization wishes to maximize the impact and benefit of new digital technologies.


5. Focus on value rather than Return on Investment (ROI). It is easy to achieve a high ROI in a very short period, but it can sometimes distract from focusing on processes that have longer-term transformative benefits that are less financial and more foundational. RPA can ease the burden of undesirable tasks and reduce the frustration of employees by rewarding their creativity, promoting innovation, and increasing engagement. While every use case may not reduce FTE, you can create capacity that frees up current employees to take on more activities that support non-linear business growth.


6. The speed and simplicity of RPA implementations make it possible to move directly to RPA 2.0. You can tackle use cases with low hanging fruit, quick returns, and direct customer experience improvement. The speed of an RPA project allows you to more easily experiment, fail fast, and learn from those failures. Consider tracking these efforts and promote the results as a way to bolster the innovative spirit in your firm.


7. Do not neglect the funding that IT will need just because RPA falls outside of their capital planning process. Traditional technology budgeting approaches may need to be adjusted for RPA. Include IT as a stakeholder from the beginning to ensure they consider budget needs to support the program. While IT may not be building the bots, they may support infrastructure, help desk, automation software and tools. While their role may be limited early on, they will require funding to deliver that support at scale.


8. Migrate from an inward to an outward focus. Rather than concentrate all your energy on how to do things better and faster internally, consider how to leverage RPA to serve your customers more effectively. Even programs operating at scale struggle to make this change. One way to measure how well you are transitioning is to calculate the number of information domains and process silos across use cases. Collect these elements as part of the use case intake and build metrics to show whether they are increasing in organizational complexity.


9. Avoid creating the wrong kind of incentives by focusing too much on hard-dollar savings. The real value of RPA is its ability to transform, but transformation will be elusive if you focus too much on headcount savings. Take the time to understand expectations and ensure that they are realistic and support your transformation goals. Clearly align goals and expectations, and develop metrics to track this progress.


This graphic provides a view of the relative maturity of an RPA program - from startup to transformational. One of the hallmarks of transformational programs is the quality of use case. Organizations that leverage RPA to improve service delivery in the front office are representative of a mature RPA program.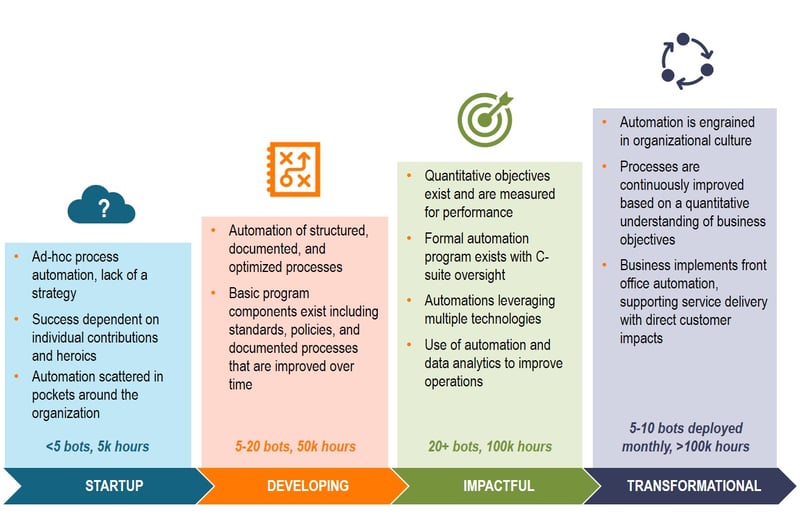 10. RPA works very well in an agile scrum development methodology. The low code modular nature of the major development platforms means you can deliver fully functional sections of process automation within a weekly or biweekly sprint. The quick feedback loop of an Agile Scrum methodology means you can limit time spent on documentation and maximize effort on building the bot and incorporating feedback from the process owner to start capturing business value in weeks instead of month.


The growth of RPA is not an accident, and it's not surprising that economists and academics are referring to this as the fourth industrial revolution. Thousands of companies have already seen significant benefits from automating manual processes. More than a trend, it's a technological wave that will carry businesses that adopt RPA well into the future and create competitive advantages over those firms that are resistant to implementing these new technologies. With all of the potential RPA has to offer, and the important competitive advantage these new digital technologies will provide, it's critical that companies start off on the right foot by understanding what they are expecting from the program, and structuring it towards that end.

Interested in learning more about establishing a Robotic Operating Center of Excellence?

Download our guidebook for an insight on why a COE matters, the steps and key considerations necessary to establishing a world-class program, and how to maximize your business value.