In times of economic uncertainty (such as the one created by COVID-19), one of your organization's most important considerations is undoubtedly cash and, by extension, accounts receivable. If cash cannot be collected for the revenues a company has earned, then its ability to cover continuing obligations (e.g., payroll expenses, accounts payable, and debt payments) may be jeopardized.

Just as your organization is "rationing" its own vendor payments, your customers are likely doing the same. To keep the cash flowing even when customers are facing restrictions on their available funds, consider the following options:
Authorize your collections team to approach or respond to those customers who are at a potential risk of payment delays, or possibly even default, with options to renegotiate payment terms. Working with customers to develop affordable payment plans that help ease their cash flow burdens will not only show good faith and garner loyalty, but it will also aid in the predictability of your own cash inflows.
Accelerate cash flows from accounts receivable, as well as potentially transfer some risk of nonpayment, by factoring the assets to a third-party purchaser.
Regardless of your company's response to mitigating its potential bad debts, the accounting implications of each must be considered, including re-evaluating the company's policy for reserving bad debts in light of current events.
Assessing Collectability and Estimating Bad Debts
With the potential for increased delinquency in accounts receivable, it is important to consider whether an increase in bad debts is also likely. If extended payment terms help a customer to pay in full, there should generally be no impact to accounting for accounts receivable. However, you may need to re-evaluate your methodology for estimating bad debts to account for longer-aging accounts receivable. Also, impacts of the extended payment terms on other areas (for example, revenue recognition) should be considered.
If doubt of collectability persists even after payment plans are established, additional bad debt reserves may need to be recorded. Consider the following scenarios and questions that may be key to mitigating your risks using the company's current resources: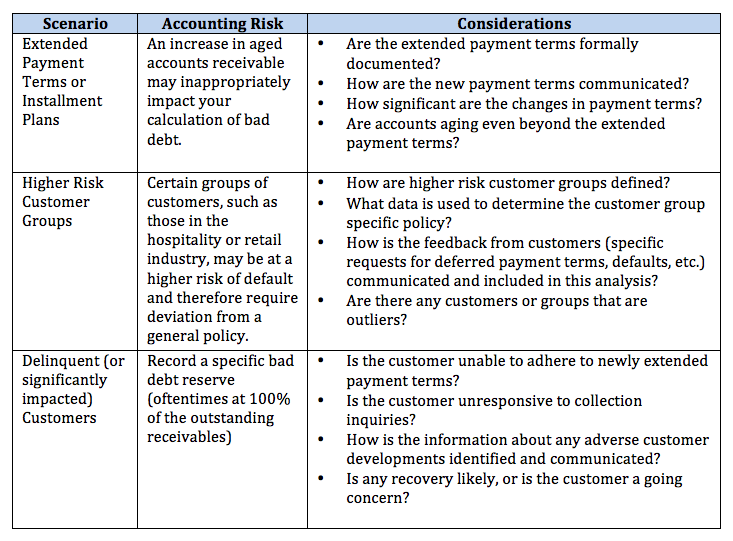 An ongoing assessment of these scenarios will provide you with valuable insight into cash collection patterns and expectations during these uncertain economic times.
Extracting Cash Flows from Existing Accounts Receivable
Another option you might evaluate to accelerate cash flows is factoring the organization's accounts receivable. While this can be a way to monetize what is becoming a riskier and a potentially longer-term asset, remember that accounts receivable pledged as collateral elsewhere are not available for factoring.
Also, there are numerous terms and conditions that may be included in a factoring agreement, each with different accounting implications. Typically, the terms of a factoring agreement will result in the sale of accounts receivable, wherein the company would recognize a cash inflow and derecognize the accounts receivable asset. While you have essentially converted one current asset to another, there are financial statement implications:
Working capital metrics may be impacted, requiring assessment of the impact on the organization's debt covenants.
The company may be required to guarantee some level of collection performance of the accounts receivable that have been sold. This would require the recognition of a contingent liability to make the purchaser whole for any uncollectible accounts.
The sale of receivables at a discount results in a loss recognized in the income statement. This is especially true given the current economic uncertainty caused by COVID-19, as increased collection risks on factored receivables would likely increase the discounts demanded by the third-party purchaser of the receivables.
Thus, you must consider the terms of any potential factoring arrangement and the resulting accounting treatment under GAAP to ensure the benefits of factoring accounts receivable are not outweighed by unforeseen repercussions.
As you guide your organization through these uncertain times, establishing robust processes and controls around accounts receivable and cash collections will ensure accurate financial reporting, and establishing strong communications both within the organization and externally with your customers will build the loyalty needed for the organization to emerge stronger as this crisis abates.
Our latest guidebook provides leaders with a roadmap to enhance resiliency plans, simplify operations, address new financial requirements, and more. To download, please click the link below.