A participant at the MDM and Data Governance Conference asked, "Most organizations are well on their journey towards implementing mature master data management. How does an organization succeed in leveraging this for other topical data initiatives and not re-invent the wheel? For example, privacy and security?"
So how do you approach and succeed in implementing initiatives that enable companies to transform into data-driven organizations?
These are the three things that executives should consider:
1. Strategies that align with the holistic data lifecycle through the business workflow.
Due to competing priorities, sometimes executives focus entirely on the part of the data lifecycle that is in their span-of-control, thereby missing opportunities for leveraging existing technology, talent or capabilities already in the organization. An even bigger miss is the lost opportunity to collaborate across functions. Cross-functional collaboration often results in an integrated organization. This sets the stage for increased operational efficiencies, thus gaining competitive advantage.
2. Defining the desired internal control outcomes for each stage of the data lifecycle and determining the data initiative that is best positioned to support the achievement of the outcomes.
Beginning with the desired internal controls outcomes across the lifecycle encourages the development of a sustainable discipline around data that can only ensure the success of other innovative agendas.

Figure 1.0: The data lifecycle reflected in a business workflow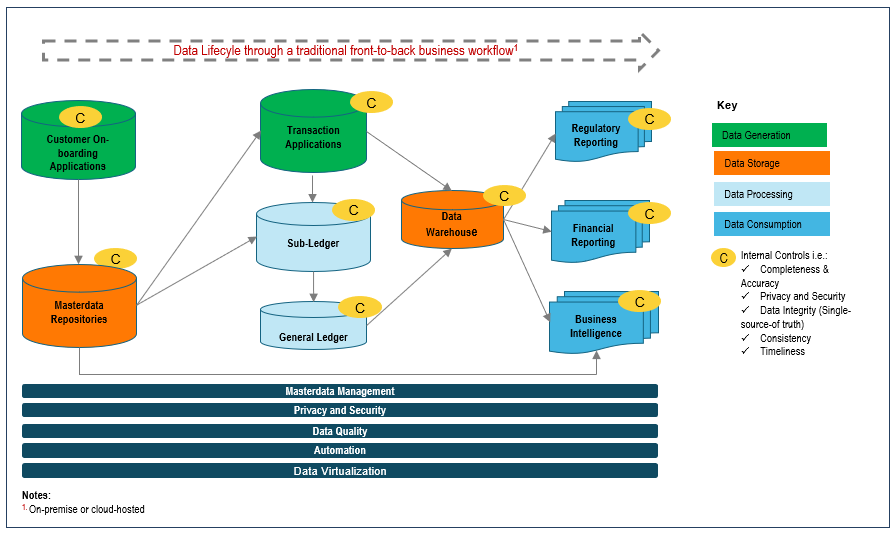 3. Defining a cross-functional governance structure.
How does the initiative governance structure align with the overall organizational data governance model?
Who are the executives that need to provide executive sponsorship? Are the executives cross-functional? Are the relevant monitoring bodies involved, such as enterprise risk management and internal audit?
Who will be responsible for sustainability and continuous improvement?
Is there a robust project management body that actively manages budgets and resources across functions?