Robotic process automation (RPA) powers modern organizations, with the RPA market expanding at a nearly 30% CAGR.
As of 2022, about 90% of global firms have already implemented an RPA tool, with 92% stating RPA software has already met or exceeded their expectations.
So where do companies begin their RPA development journey?
The Robotic Operating Center of Excellence
A Center of Excellence (CoE) can seem like a large, monolithic entity that can overwhelm many companies in the early stages of automation deployments. But the structure, governance, framework, and expectations that a CoE brings to an RPA implementation is exactly the solution that's needed to successfully integrate, innovate, and scale automation throughout the business.
Establishing a CoE dedicated to robotic operations should ideally begin by understanding the core value-adds and risk controls necessary to achieve actual business outcomes. In other words, maximizing what RPA can achieve while minimizing risks.
Viewing an RPA program through this lens of capabilities enables organizations to arrive at the right mix of centralization, guardrails, and flexibility. The objective is to identify a baseline set of capabilities, competencies, tools, and resources necessary to achieve an automation goal.
Through several activities and workshops, the CoE can generate a roadmap for future program enhancements. The key steps in this process are:
Identify the foundational capabilities and tools.

Put capabilities in place to deliver on those needs.

Establish a roadmap to satisfy future needs and growth.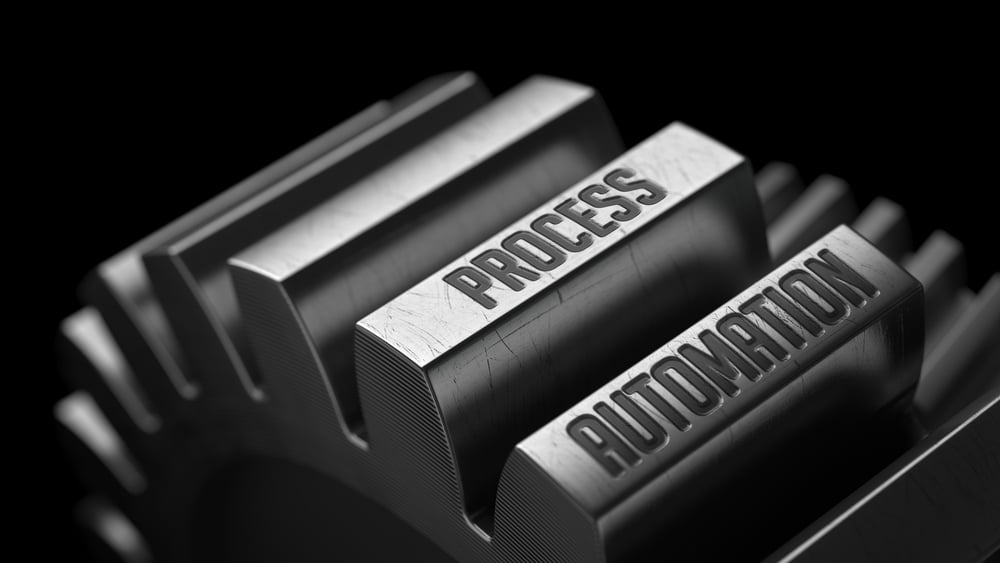 Starting RPA With the Basics of Critical CoE Services
At the early stage of RPA program development, start with the basics of governance, policy, security, and operations. With these pillars in place, the CoE can adapt to evolving stakeholder demands and continually iterate on behalf of new use cases.
The capabilities model of a newly formed CoE should include functions and subfunctions such as:
Strategy
Automation strategy.

Development methodology.

Templates.

Coding standards.

Best practices.
Policy, Compliance, and Governance
Stakeholder management.

Goals and KPIs.

Training.

Governance structure.
Opportunity Evaluation
Fit assessment.

Use case pipeline management.

Business value measurement.
Automation Operations
Development.

Testing.

Helpdesk tier 1/2/3.

Bot deployment.

License management.
RPA Tools
Development frameworks.

Technology roadmap.

Developer resources.

Reusable components and bot library.
Security
Access management.

Bot identity management.

Data privacy.

Security policy.
Platform and Architecture
Risk assessment.

Platform alerts.

Incident response.

Infrastructure management.
It's a tall order. That's why the creation of a CoE can streamline the deployment of RPA technology and ensure there is the right level of human intervention, change management, business process framework in place for others to adhere to.
One way to model this is through a matrix, as seen below. Key capabilities are highlighted in red, with the CoE working in cohesion with existing IT and business resources.
CLIENT TAILORED INTELLIGENT AUTOMATION CAPABILITY MODEL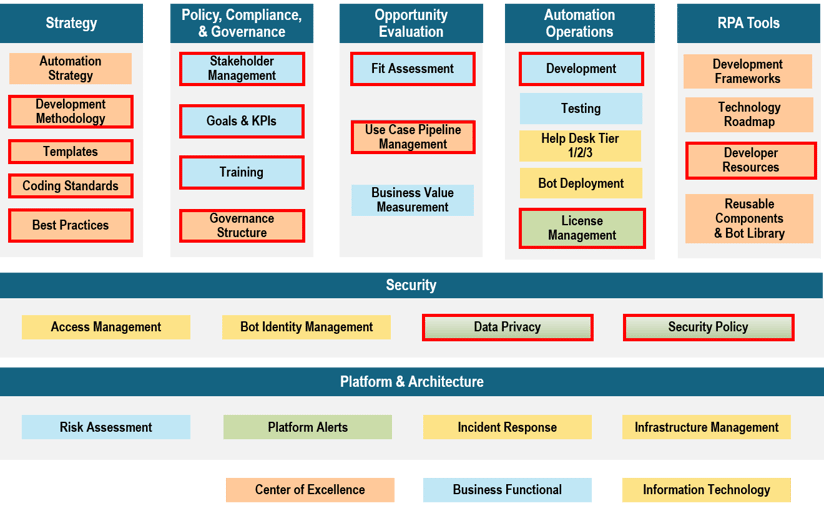 Some key things to consider for growth beyond the initial launch include:
1. Plan for Operational Support
One of the biggest mistakes an organization can make is to underestimate the operational demands of an RPA project.
RPA can be a quick way to eliminate manual work, but it takes support and scale to bring this to fruition. As software robots automate repetitive processes, stakeholders will need to decide which repetitive task comes next and why.
Similarly, as certain functions — most notably the modern finance function — leverage an RPA vendor at a higher capacity, the benefits and takeaways from the implementation can be rolled over into another function. Again, the operational support to make those decisions and investments will make or break a sustainable, scalable RPA journey.
Bots run on infrastructure and leverage a number of tools and applications to complete the tasks of the business process. That infrastructure is dynamic, sometimes expansive, and can be very fluid, which will affect the environment in which the bots work.
Maintaining the health of bots takes planning and effort as well. Managing infrastructure and responding to bot issues will become a full-time job. One way to understand this need is to think about the role a tiered helpdesk plays in assisting with issue triage and resolution for more traditional areas of business. RPA is no exception in this regard:
A virtual machine will need to be provisioned and software installed and patched.

Bots will fail to run and require triage.

RPA platform licenses will need to be managed.

Bot code will need to be deployed between environments.

Bot credentials will need to be provisioned and managed throughout the lifecycle of the bot.
All of these activities and web services will require attention, and the effort to support them can lead to major delays in response times if they haven't been planned for.
As a best practice, embed digital and RPA into the organization in a more significant way rather than thinking of it as a separate operation that exists in isolation. For example, leverage a traditional helpdesk support model, with tier one assistance handled by the digital worker supervisor for day-to-day issues, and skilled RPA resources handling tiers two and three. The helpdesk can be used to ensure stability and support stakeholders.
2. Listen to Stakeholders and Be Prepared to Adapt and Reinforce Best Practices
Another best practice is to track reported issues and complete root cause analysis to gain valuable insight as to where adaptations are needed and how the program can be optimized.
Use these insights to address the most immediate issues impeding progress and to keep stakeholders informed about future developments. At all times, process owners must maintain support and confidence of the teams who have embraced automation. They must consistently report the business case and results of the RPA pilot.
3. Early Adopters of RPA Can Be the Best Advocates, But They Can Turn Into the Biggest Critics if Their Experience Is Subpar
As process owners establish and enhance the automation program, the first RPA users will feel the growing pains. While learning how RPA will best integrate into the organization at large, it's possible to encounter rigid processes and resistance from internal support teams that are responsible for various functions the program relies on to operate. To successfully integrate RPA, it may be necessary to make changes in program processes to ensure full adherence to policies and to meet the high expectations of various stakeholders.
The goal is to work toward a high degree of stakeholder engagement and strive to provide the most responsive experience possible for these early adopters. This is critical to maintaining support and confidence of the teams who have embraced automation.
4. Implementing Tools to Support the Automation Capabilities of the Program Can Be Very Helpful at the Start
For example, managing use cases in a use case life cycle application can be valuable and serve as a key enabler for the RPA program. However, the tools employed to deliver these capabilities do not need to be systems nor do they need to be overly complex.
Get started by tracking use cases with spreadsheets, evaluating the technology with a simple questionnaire, and calculating an estimated ROI using a spreadsheet template. Focus efforts on designing these capabilities and start with very simple tools to manage and deliver them.
Over time, the CoE and the business as a whole will learn what works best and will know how to enhance the program further with even more robust tools and applications.
Starting simple gives the opportunity to iterate and limit expensive tool rework.
There is no single approach for structuring an RPA program that will be right for every organization. Finding the perfect balance between structure and flexibility will be the key to its success.
It's important to recognize that the value of a structured program is the support it provides to stakeholders. One that is well-designed helps them to understand how to access resources and provides guardrails to ensure risks are effectively managed. Starting small by focusing on basic governance, policy, security, and operations ensures the program can gain traction and overcome common obstacles that many experiences when starting out.
Interested in learning more about establishing a Robotic Operating Center of Excellence?
Download our guidebook for an insight on why a COE matters, the steps and key considerations necessary to establishing a world-class program, and how to maximize your business value.
Editor's note: Updated February 2022