Financial institutions were labeled as the cause of the 2008 financial crisis but are now being relied upon to provide credit to businesses in the current economic environment. How did this drastic change of fortune occur? Have the financial institutions developed an immunity to the COVID-19 pandemic?
COVID-19 has appeared on almost every continent (except Antarctica) and does not discriminate among its victims by ethnicity, language, or nationality. Similarly, its impact on the economy does not distinguish between organizations by asset size or industry type, and the severity varies between organizations and has resulted in a liquidity crunch for some.
Weaknesses in Capital Planning Process
Why are some organizations more vulnerable than others during this period? We have identified five common weaknesses observed in the capital planning processes that may result in a liquidity crisis.

Regulatory Development in Financial Industry after 2008 Financial Crisis
After the 2008 financial crisis, President Obama's administration introduced the Dodd-Frank Wall Street Reform and Consumer Protection Act (DFAST) and Comprehensive Capital Analysis and Review (CCAR) regulations.
DFAST and CCAR require financial institutions to perform a semi-annual capital planning exercise. Each respondent must perform quantitative assessments to derive their capital ratios based on a hypothetical set of stressful economic conditions. Larger financial institutions are also required to complete a qualitative assessment by submitting their planned capital actions (e.g. dividend payments or shares buyback) to the Federal Reserve (Fed). The Fed reviews these assessments and can object to the financial institution's capital plan on either quantitative or qualitative grounds. Their oversight ensures that financial institutions maintain enough liquidity and capital to absorb unexpected losses and to continue to lend to creditworthy businesses and consumers in a stressed economic environment. It may be too early to tell if the financial institutions that are in compliance with CCAR and DFAST requirements are completely immune to a liquidity crisis at this point, but CCAR and DFAST should leave them in better shape to ride through this crisis.
Leveraging CCAR/ DFAST Concepts in Other Industries
Industries such as airlines, hotels, automobile, and food and beverage (F&B) are facing liquidity issues. Some of them may see benefits from the newly passed CARES Act, while others have also begun to furlough or lay-off employees in order to stay in business. How can we apply the CCAR and DFAST regulatory concepts to the capital planning process of these industries?
Here, we share the four steps that organizations in these industries could apply in their capital planning process: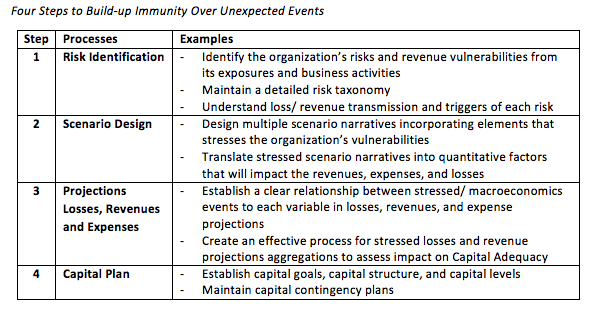 Strong data management, robust internal controls and effective governance will also provide senior management the confidence to depend on this process to make all critical business decisions.
Start Building Your Organization's Immunity Against a Liquidity Crisis
The approach and complexity of implementation of these four steps required in order to create a robust capital planning process will differ for each industry and organization. It is important to start investing in your organization's process now to ensure that you are prepared for any unexpected business disruptions.
Our latest guidebook provides leaders with a roadmap to enhance resiliency plans, simplify operations, address new financial requirements, and more. To download, please click the link below.