Incidents of serious misconduct such as Foreign Exchange (FX) rate manipulation and trader collusion have led to a deterioration of trust and confidence in the wholesale FX market as well as billions of dollars in fines and ligation costs for offending firms. In response to this, the Bank for International Settlements (BIS) partnered with central banks and market participants from 16 jurisdictions around the globe over the last 2 years to produce a new Foreign Exchange Global Code of Conduct (The Code).
The Code was developed to provide a common set of guidelines to promote the integrity and effective functioning of the wholesale foreign exchange market. The Code is comprised of 6 primary principles of good practice in the foreign exchange market and 55 secondary principles.
The first phase of the Code was released in May 26th, 2016. It covered areas such as ethics, information sharing, aspects of execution and confirmation and settlement. On May 25th, 2017 the BIS published the second and final phase of the new Code via their Global FX Markets Committee. It covers further aspects of execution including electronic trading and platforms, prime brokerage, as well as governance and risk management and compliance.
The Code applies to all wholesale FX market participants across both buy-side and sell-side, as well as operators of facilities, systems, corporate treasuries, electronic trading platforms and FX benchmark execution services. While the Code isn't strictly regulation, numerous organizations have voiced their support for it, urging market participants to abide by the new rule set. The Code does not apply to retail markets participants.
Six global principles
The Code sets out global principles of good practice in the foreign exchange market to provide a common set of guidance to the market: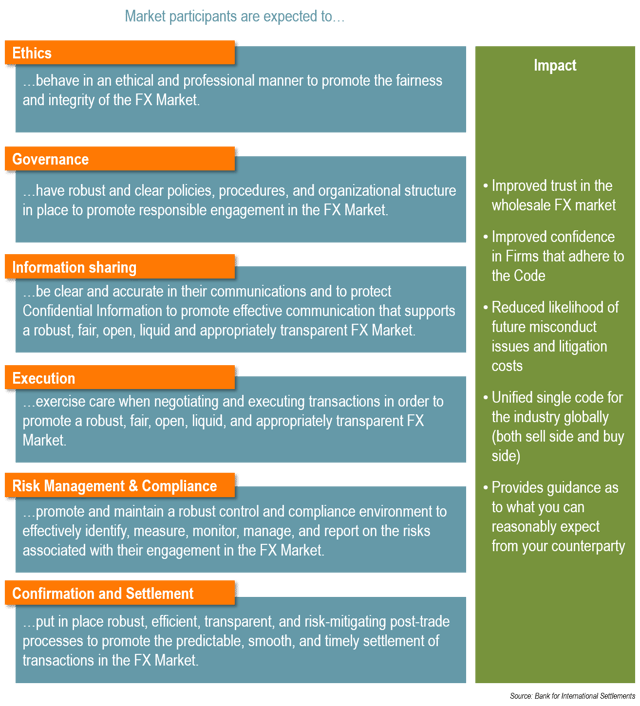 Individual firms should take these principles and reflect them in their own processes and procedures to achieve sustainable and repeatable conformance with the Code. In line with the FX market, the Code is likely to evolve over time with regular reviews anticipated every 3 years.
It is expected that the Code will be widely adopted and adhered to by participants in the wholesale FX market over the next 6 to 12 months. Participating central banks have indicated that adherence will be a requirement of their counterparties and certain FX industry groups intend to make adherence a requirement for membership. Over time, firms that do not conform to the code may experience a reputational and business impact. In line with this, we envision the recent trend of heightened ethical competition continuing throughout the FX marketplace.
To further facilitate adherence to the Code, the Foreign Exchange Working Group has published a 'Statement of Commitment' document that participants can sign to indicate their support for the Code. It is expected that signed statements will be socialized via a public register in the coming months.
What should wholesale FX market participants do now?
The structure and nature of an effective FX risk management framework will vary substantially between market participants based on the nature of their activities. Irrespective of the maturity level of the market participants' FX supervisory framework, there are a number of key considerations that should be taken into account.
Identify areas where the organization may fall short of best practices for FX activities in all geographic regions through the full trade lifecycle with respect to the 55 principles outlined within the Code
Design and implement a standardized supervisory framework across impacted business and products so that reviews and escalations can be prioritized appropriately
Identify and implement key tools and technology that create trails and allow supervisors to monitor adherence and point to evidence of robust controls in action in a repeatable and sustainable way
Use technology to regularly produce metrics and management information to be socialized at senior governance forums which strengthens oversight and informs high level decisions
Provide training and communications to impacted individuals – for larger organizations this may be tailored for the first, second and third lines of defense.
Move swiftly to position the individual ultimately responsible for the FX asset class within the firm to publicly sign the 'Statement of Commitment' which attests that the firm has aligned its activities with the principles of the Code.
The creation and publication of the FX Global Code of Conduct marks an important milestone for the wholesale FX market and is a decisive step forward in lifting ethical standards globally.
A copy of the FX global code can be found here.